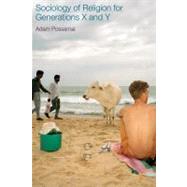 Note: Supplemental materials are not guaranteed with Rental or Used book purchases.
ISBN: 9781845533038 | 1845533038
Cover: Hardcover
Copyright: 8/8/2014
Readers and students from generations X and Y are involved in consumer culture, get part of their knowledge through popular culture and/or the internet, and are more practical than theoretical. This book on the sociology of religion straddles the intersection between consumer culture, cyber-culture and popular culture, and focuses on the need of these generations. This book makes specific relevance to generations X and Y from the very first page. To draw the reader into a topic, each chapter begins with a case study from popular culture or the internet. This narrative device is a key approach to bringing readers and students to the heart of the problem. Sociology of Religion for Generations X and Y explores sociological concepts such as secularisation and the multiple modernisation thesis, re-enchantment, the McDonaldisation of society and the easternisation of the west, while addressing contemporary phenomenon within, for example, Buddhism, Christianity, Islam, New Age, Scientology, and Witchcraft groups, both online and offline. It also addresses new religious phenomena such as the mixing of religion and popular culture on the internet as found in new groups such as Jediism and Matrixism. While covering classical works in the field, Sociology of Religion for Generations X and Y uses the writing of cutting edge theorists to understand where religion and spirituality are coming from, where they are right now, and where they might be going. It also highlights the practical relevance of this sub-discipline to readers and students by exploring what sociologists of religion do outside of the academy.