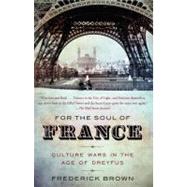 Note: Supplemental materials are not guaranteed with Rental or Used book purchases.
ISBN: 9780307279217 | 0307279219
Cover: Trade Paper
Copyright: 2/8/2011
Frederick Brown, cultural historian, author of acclaimed biographies of Emile Zola ("Magnificent"TheNew Yorker) and Flaubert ("Splendid . . . Intellectually nuanced, exquisitely written"The New Republic) now gives us an ambitious, far-reaching booka perfect joining of subject and writer: a portrait of fin-de-siecle France. He writes about the forces that led up to the twilight years of the nineteenth century when France, defeated by Prussia in the Franco-Prussian War of 187071, was forced to cede the border states of Alsace and Lorraine, and of the resulting civil war, waged without restraint, that toppled Napoleon III, crushed the Paris Commune, and provoked a dangerous nationalism that gripped the Republic. The author describes how postwar France, a nation splintered in the face of humiliation by the foreignerPrussiadissolved into two cultural factions: moderates, proponents of a secular state ("Clericalism, there is the enemy!"), and reactionaries, who saw their ideal nationmilitant, Catholic, royalistembodied by Joan of Arc, with their message, that France had suffered its defeat in 1871 for having betrayed its true faith. A bitter debate took hold of the heart and soul of the country, framed by the vision of "science" and "technological advancement" versus "supernatural intervention." Brown shows us how Paris's most iconic monuments that rose up during those years bear witness to the passionate decades-long quarrel. At one end of Paris was Gustave Eiffel's tower, built in iron and more than a thousand feet tall, the beacon of a forward-looking nation; at Paris' other end, at the highest point in the city, the basilica of the Sacre-Coeur, atonement for the country's sins and moral laxity whose punishment was France's defeat in the war . . . Brown makes clear that the Dreyfus Affairthe cannonade of the 1890scan only be understood in light of these converging forces. "The Affair" shaped the character of public debate and informed private life. At stake was the fate of a Republic born during the Franco-Prussian War and reared against bitter opposition. The losses that abounded during this timethe financial loss suffered by thousands in the crash of the Union Generale, a bank founded in 1875 to promote Catholic interests with Catholic capital outside the Rothschilds' sphere of influence, along with the failure of the Panama Canal Companyspurred the partisan press, which blamed both disasters on Jewry. The author writes how the roiling conflicts that began thirty years before Dreyfus did not end with his exoneration in 1900. Instead they became the festering point that led to France's surrender to Hitler's armies in 1940, when the Third Republic fell and the Vichy government replaced it, with Marshal Petain heralded as the latest incarnation of Joan of Arc, France's savior . . .