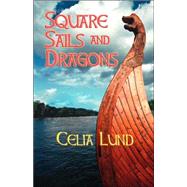 Note: Supplemental materials are not guaranteed with Rental or Used book purchases.
ISBN: 9781412057585 | 1412057582
Cover: Paperback
Copyright: 5/15/2006
The last thing young Leif Ericsson needs on his first command is a stowaway aboard his trading vessel. After relegating Terje Gundersson to care for polar cubs and eat left-overs, Leif must resurrect him from the hold to replace an injured seaman.A storm tosses the ship in battered disarray to a Hebrides island, where Terje benefits from the stay there under the tutelage and friendship of Leif's foster-father and former tutor, Thykir the German. But Leif, invited to live at the longhouse of the Lord of the Isle, becomes romantically involved with the chieftain's mysterious daughter, and will leave behind a dark secret.When they reach Norway's beautiful Trondelag region, brave but zealous King Olav Tryggvason determines to lead Leif into Christianity, a sure way to incur the wrath of his renowned pagan father, Eric the Red. Terje falls in love with a young noblewoman of the court who can not bring herself to reveal some things she should.In the background of Leif's gradual conversion to Christianity, dangerous developments take place for his friend, whom he must protect until they sail.From Greenland to the Hebrides to Norway, unique characters enliven the pages of this tenth-century novel: The volatile Eric the Red and his tolerant, intelligent wife, kind and eccentric Hebrideans, stalwart and stubborn seamen, a brave but zealous king and beautiful women whose love spell disaster.The author skillfully weaves dramatic fiction with accounts of Norse history based on the various sagas; the result brings Viking emotions of a thousand years ago to the present - where they are best defined as our own.