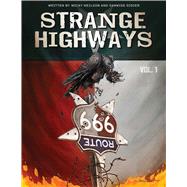 Note: Supplemental materials are not guaranteed with Rental or Used book purchases.
ISBN: 9781683831259 | 168383125X
Cover: Hardcover
Copyright: 5/14/2019
The first installment in a new series of illustrated dark fantasy novels from New York Times best-selling author Micky Neilson and legendary Blizzard Entertainment artist and director Sam Didier.

Welcome to Texas! Well, the new Texas, that is.

After seceding from the oppressive USA, the Lone Star Nation is now a part of what's called by the yanks the Divided States of America . . . a desolate wasteland full of biker gangs, strip clubs, and run-down towns where justice usually comes in the form of a bullet—and lots of 'em to boot. In this new Texas, the bizarre is commonplace, and any legendary horror monster—be it zombie, werewolf, or vampire—is just another soul on the road.

Growing up as a freak in a traveling carnival, one might expect to have it rough. But being beaten, shot, hung, and left for dead by the very people who raised you? That's downright extreme. Unfortunately for his attackers, Jo Jo, the former "Feral Kid," is very hard to kill. And now he's out for that most basic of human desires: payback.

Traveling the strange highways of the Divided States, Jo Jo comes across an eccentric gallery of freaks and rogues: a young "dancer" on the run from her depraved "father," a messianic head of a biker cult, and a gruesome collection of assassins, cutthroats, and clowns-for-hire. Each confrontation brings Jo Jo closer to his ultimate target: the Rambling Man—carnival ringleader, necromancer, and the man who wants Jo Jo dead more than anyone.

'Course that's just fine with Jo Jo, 'cause he feels the exact same way.