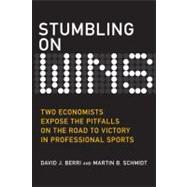 Note: Supplemental materials are not guaranteed with Rental or Used book purchases.
ISBN: 9780132357784 | 013235778X
Cover: Hardcover
Copyright: 3/8/2010
"This book takes the hallowed traditions of sports decision-making and pokes them with a sharp stick." Henry Abbott, founder of TrueHoop, housed at ESPN.com "Moneyballshould have been called ls"MoneyBaseball.rs"Stumbling On Winscovers everything else. Every general manager needs to buy this book to save his owner money. Every fan needs to buy this book to know when it makes sense to yell at the general manager." -Darren Rovell, CNBC Sports Business Reporter "This is an important book. Berri and Schmidt have been leaders of the revolution in the analysis of team performance in sports and, in this book, they explain why coaches, players, and fans cannot afford to ignore the stats if they want to win.Moneyballgave us an inkling of what is to come, but this is the real deal." Stefan Szymanski, author of Soccernomics andPlaybooks and Checkbooks "Stumbling On Winslays it all out-a roadmap of behavioral economics, that runs straight through your favorite sports arena. Brilliant stuff, beautifully written, and sure to captivate any student of economics or sports." -Justin Wolfers, Associate Professor of Business and Public Policy, The Wharton School, University of Pennsylvania; writer for Freakonomics.blogs.nytimes.com "Berri and Schmidt are true pioneers of modern sports economics, proving time and again that sports are the perfect laboratory for social science research.Stumbling On Winsreveals that sports are more than entertainment; they tell us something important about ourselves." J.C. Bradbury, author ofThe Baseball Economist "This book isnrs"t just about sports statistics. InStumbling On Wins, Berri and Schmidt have a compelling story to tell about how people make decisions in sports, and the stats narrate the story. This is a fresh and revealing look at how decision-makers frequently miss the mark and how they can do better." -Brian Burke, AdvancedNFLStats.com Donrs"t they want to win? Every sports fan asks that question. And no wonder! Teams have an immense amount of detailed, quantifiable information to draw upon. They have powerful incentives for making good decisions. Everyone sees the results of their choices, and the consequences for failure are severe. And yet, they keep making the same mistakes over and over again...mistakes yours"d think theyrs"d learn how to avoid! Now, two leading sports economists reveal those mistakes in basketball, baseball, football, and hockeyand explain why sports decision-makers never seem to learn their lessons. Yours"ll learn which statistics are linked to wins and which arenrs"thellip;and which statistics can predict the future and which canrs"t (information that just might help you dominate your next fantasy league!). The next quantum leap beyondMoneyball, this book offers powerful new insights into all human decision-making. Because if multimillion dollar sports teams are getting it wrong this badly, how do you know yours"re not? bull; Do better coaches really win more?