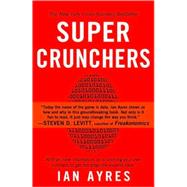 Note: Supplemental materials are not guaranteed with Rental or Used book purchases.
ISBN: 9780553384734 | 0553384732
Cover: Trade Paper
Copyright: 8/26/2008
An international sensationand still the talk of the relevant blogospherethisWall Street JournalandNew York Timesbusiness bestseller examines the "power" in numbers. Today more than ever, number crunching affects your life in ways you might not even imagine. Intuition and experience are no longer enough to make the grade. In order to succeedeven survivein our data-based world, you need to become statistically literate. Cutting-edge organizations are already crunching increasingly larger databases to find the unseen connections among seemingly unconnected things to predict human behavior with staggeringly accurate results. From Internet sites like Google and Amazon that use filters to keep track of your tastes and your purchasing history, to insurance companies and government agencies that every day make decisions affecting your life, the brave new world of the super crunchers is happening right now. No one who wants to stay ahead of the curve should make another keystroke without reading Ian Ayres's engrossing and enlightening book.