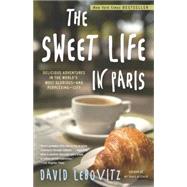 Note: Supplemental materials are not guaranteed with Rental or Used book purchases.
ISBN: 9780767928892 | 076792889X
Cover: Trade Paper
Copyright: 3/1/2011
Like so many others, David Lebovitz dreamed about living in Paris ever since he first visited the city in the 1980s. Finally, after a nearly two decade career as a pastry chef and cookbook author, he moved to Paris to start a new life. Having crammed all his worldly belongings into three suitcases, he arrived, hopes high, at his new apartment in the lively Bastille neighborhood.
But he soon discovered it's a different world en France.
From learning the ironclad rules of social conduct to the mysteries of men's footwear, from shopkeepers who work so hard not to sell you anything to the etiquette of working the right way around the cheese plate, here is David's story of how he came to fall in love with and even understand this glorious, yet sometimes maddening, city.
When did he realize he had morphed into un vrai parisien? It might have been when he found himself considering a purchase of men's dress socks with cartoon characters on them. Or perhaps the time he went to a bank with 135 euros in hand to make a 134-euro payment, was told the bank had no change that day, and thought it was completely normal. Or when he found himself dressing up to take out the garbage because he had come to accept that in Paris appearances and image mean everything.
The more than fifty original recipes, for dishes both savory and sweet, such as Pork Loin with Brown Sugar Bourbon Glaze, Braised Turkey in Beaujolais Nouveau with Prunes, Bacon and Bleu Cheese Cake, Chocolate Coconut Marshmallows, Chocolate Spice Bread, Lemon Glazed Madeleines, and Mocha Crème Fraîche Cake, will have readers running to the kitchen once they stop laughing.
The Sweet Life in Paris is a deliciously funny, offbeat, and irreverent look at the city of lights, cheese, chocolate, and other confections.
"David Lebovitz is the greatest thing to happen to dessert since the spoon, but this time he shows that beyond his artful nose and flawless taste, he also has a keen reporter's eye. If Paris intrigues, excites, or merely interests you, read this book."-Mort Rosenblum, author of The Secret Life of the Seine, A Goose in Toulouse, Olives, and Chocolate: A Bittersweet Story of Dark and Light
"Cooks aren't usually such good writers so funny, skeptical, and observant. He's a wonderful one. Also, I'm a fervent fan of his ice-cream book, so I can't wait to cook my way through his other recipes."-Diane Johnson, author of Le DivorceFrom the Hardcover edition.