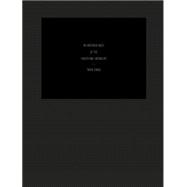 Note: Supplemental materials are not guaranteed with Rental or Used book purchases.
ISBN: 9783775735063 | 3775735062
Cover: Hardcover
Copyright: 7/31/2013
First published in 2008, and now commanding high prices second-hand, Taryn Simon's An American Index of the Hidden and Unfamiliarreveals objects, sites and spaces that are integral to America's foundation, mythology or daily functioning, but which remain inaccessible or unknown to a public audience. To make the more than 60 large-format photographs often required protracted negotiations before Simon was granted access to the sites. When circumstances permitted, she photographed with a large-format camera and careful lighting, emphatically notfollowing the tradition of the journalistic snapshot. The photographs include radioactive containers in a storage facility for nuclear waste; the recreational facility of a high-security prison; the headquarters of the Ku Klux Klan with its Wizards, Night Hawks and Kleagles; a Scientology seminar room; MOUT, a facade city in Kentucky built as a training ground for urban warfare; the sealed-off halls of the CIA headquarters; a high-security research institute studying animal epidemics; and an operating room in which a Palestinian woman had her hymen (and thus her virginity) restored. Each image is accompanied by a brief text written by the artist, that precisely explains what is seen and why it is hidden or off-limits. Although An American Index of the Hidden and Unfamiliarforces us to confront the darker side of democratic society, it also conveys the fascination that attends the exploration of forbidden territories. Taryn Simonwas born in New York in 1975. She has produced several books of photography and writing, including Contraband, The Innocentsand A Living Man Declared Dead and Other Chapters. Other subjects documented by Simon include feuding families in Brazil, victims of genocide in Bosnia and the body double of Saddam Hussein's son Uday.