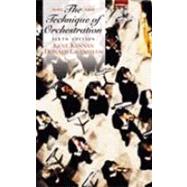 Note: Supplemental materials are not guaranteed with Rental or Used book purchases.
ISBN: 9780130771612 | 0130771619
Cover: Package
Copyright: 4/23/2002
This book is designed primarily as a text for beginning orchestration courses, but it includes material suitable for more advanced study and also may serve as a reference. Since the first edition appeared in 1952, it has been periodically expanded and revised to reflect new developments in instruments and orchestral practice. In the case of this sixth edition, the most important new feature is the inclusion, packaged with the book, of a compact disc that contains selected examples played by members of the University of Texas Symphony Orchestra. Tie recording includes: the arrangements of a two-measure fragment from Jesu, meine Freude (Back harmonization) for strings (Chapter 3), for woodwinds (chapter 6) and for brass (Chapter 9); chords for the various sections of the orchestra (Chapter 10); scorings illustrating rearrangement of pianistic figures (chapter 11); and the different scorings of the Brahms Intermezzo excerpt; the Beethoven Sonata excerpt (Chapter 12); and one of Ex. 16.4.
It is intended that each segment of the recording will be played, in turn, as the corresponding aspect of orchestration is studied. Small icons next to the examples tell where the latter can be found on the disc. Examples of individual instruments are not included on the recording, because that aspect has been covered on numerous commercial recordings, a few of which were mentioned on a preceding page. Furthermore, in most schools it is possible to arrange for classroom demonstrations of many of the instruments. Other changes in the book include a few deletions and additions of musical examples and listings as well as an updating of the bibliography.
As in the earlier edition, the emphasis is on the practical fundamentals of orchestration. No attempt has been made to give an account of the construction of instruments. Historical background is given only where it seems essential to an understanding of modern instruments or scores of an earlier period. Because most orchestration classes include students who will be working with high-school orchestras, certain problems involved in scoring for such groups are mentioned from time to time. A short chapter is devoted to that subject.
Other chapters supply basic information on nonorchestral instrumental groups, including the band and the wind ensemble, and on the writing of score and parts. In addition, four appendixes give supplementary information that may be helpful.
Knowledge of various styles of scoring must be gained principally through a direct study of scores. Consequently that aspect of orchestration has been left largely in the hands of the individual teacher, to be undertaken as scores of various periods are studied in class. Some thoughts on that phase of the work are included in the "Suggestions for Using This Book" section that follows.
Included in that section is information on a workbook keyed to the text, also published by Prentice Hall.
As successive editions of The Technique of Orchestration have appeared over a period of many years, it has become increasingly difficult to give credit to all the persons who have contributed information or valuable suggestions. We wish to reaffirm our gratitude to those persons now. In the case of the present edition, our special thanks go to Glenn Daum, Robert Duke, Tony Edwards, Karl Miller, and Russell Pinkston.
KENT KENNAN
DONALD GRANTHAM