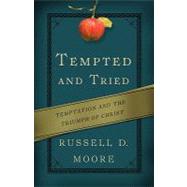 Note: Supplemental materials are not guaranteed with Rental or Used book purchases.
ISBN: 9781433515804 | 1433515806
Cover: Paperback
Copyright: 3/2/2011
Describes the broader spiritual context of temptation as awar and leads believers to a rich understanding of the triumph theyhave in Christ.Although temptation is a common and well-acknowledged part ofthe human experience, few realize the truth behind temptation andfewer still know how to defeat it. Tempted and Tried willnot reassure Christians by claiming that temptation is lesspowerful or less prevalent than it is; instead, it will preparebelievers for battle by telling the truth about the cosmic war thatis raging. Moore shows that the temptation of every Christian ispart of a broader conspiracy against God, a conspiracy thatconfronts everyone who shares the flesh of Jesus through humanbirth and especially confronts those who share the Spirit of Christthrough the new birth of redemption.Moore walks readers through the Devilrs"s ancient strategiesfor temptation revealed in Jesusrs" wilderness testing. Mooreconsiders how those strategies might appear in a contemporarycontext and points readers to a way of escape. Tempted andTried will remind Christians that temptation must beunderstood in terms of warfare, encouraging them with the truththat victory has already been secured through the triumph ofChrist.