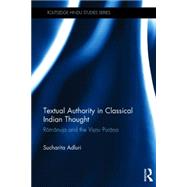 Note: Supplemental materials are not guaranteed with Rental or Used book purchases.
ISBN: 9780415695756 | 0415695759
Cover: Hardcover
Copyright: 11/26/2014
Theistic VedÄnta originated with RÄmÄnuja (1077-1157), one of its foremost proponents, who was also an initiate of the ÅarÄ«vaiá¹£á¹!ava sectarian tradition in South India. As devotees of the God Viá¹£á¹!u and his consort ÅarÄ«, the ÅarÄ«vaiá¹£á¹!avas established themselves through various processes of legitimation as a powerful sectarian tradition. One of the processes by which the authority of the ÅarÄ«vaiá¹£á¹!avas was consolidated was RÄmÄnuja'¬"s synthesis of popular Hindu devotionalism with the philosophy of VedÄnta. This book demonstrates that, by incorporating a text often thought to be of secondary importance - the Viá¹£á¹!u PurÄá¹!a (1st-4th CE) - into his reading of the Upaniá¹£ads, which were the standard of orthodoxy for VedÄnta philosophy, RÄmÄnuja was able to interpret VedÄnta within the theistic context of ÅarÄ«vaiá¹£á¹!avism. RÄmÄnuja was the first Brahmin thinker to incorporate devotional purÄá¹!as into VedÄnta philosophy. His synthetic theology called ViÅ:iṣṭÄdvaita (unity-of-the-differenced) wielded tremendous influence over the expansion of Viá¹£á¹!u devotionalism in South India and beyond. Expanding on and reassessing current views on RÄmÄnuja'¬"s theology, the book contributes new insights to broader issues in religious studies such as canon expansion, commentarial interpretation, tradition-building, and the comparative study of scripture.