Think Better: An Innovator's Guide to Productive Thinking
, by
Hurson, Tim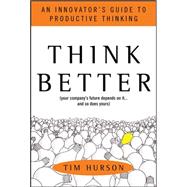 Note: Supplemental materials are not guaranteed with Rental or Used book purchases.
ISBN: 9780071494939 | 0071494936
Cover: Hardcover
Copyright: 1/10/2012
There are thousands of books about thinking. But there are very few books that provide clear how-to information that can actually help youthink better.Think Betteris about Productive Thinking why it's important, how it works, and how to use it at work, at home, and at play. Productive Thinking is a game changer a practical, easy-to-learn, repeatable process that helps people understand more clearly, think more creatively, and plan more effectively. It's based on the thinking strategies that people we celebrate for their creativity have been using for centuries. Tim Hurson brings Productive Thinking out of the closet and presents it in a way that makes it easy for anyone to grasp and use so you can think better, work better, and do better in every aspect of your life.Think Betterdemonstrates how you can start with an intractable technical problem, an unmet consumer need, or a gaping chasm in your business strategy and, by following a clearly defined, practical thinking process, arrive at a robust, innovative solution.Manycompaniesuse the Productive Thinking model to generate fresh solutions for tough business problems, and manyindividualsrely on it to solve pressing personal problems.The principles you'll find inThink Betterare straight-forward: separate your thinking into creative thinking and critical thinking; stay with the question; strive for the "third third" by generating lots and lots of ideas; and look for unexpected connections. The model consists of six interlocking steps: Step 1:What's Going On?Explore and truly understand the challenge. Step 2:What's Success?Envision the ideal outcome and establish success criteria. Step 3:What's the Question?Pinpoint the real problem or opportunity. Step 4:Generate AnswersList many possible solutions. Step 5:Forge the SolutionDecide which solution is best. Then make it better. Step 6:Align ResourcesCreate an action plan. Tim Hurson starts by explaining how we all build inner barriers to effective thinking. He identifies our habits of thinking that severely limit our behavior, from "monkey mind" to "gator brain." Then he demonstrates how to overcome these barriers. More than anything, productive thinking is an attitude that will let you look at problems and convert them into opportunities. At the end of this disciplined brainstorming process, you'll have a concrete action plan, complete with timelines and deadlines. The book is filled with many of Hurson's original brainstorming tools that will empower you to generate, organize, and process ideas. For example, you can identify your best ideas using the fiveC's:Cull,Cluster,Combine,Clarify andChoose. And you can transform an embryonic idea into a robust solution withPOWER, which stands forPositives,Objections,What else?,Enhancements andRemedies. To create the future, you first must be able to imagine it. Productive thinking is a way to help you do that.