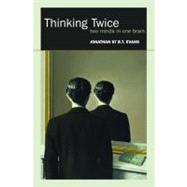 Note: Supplemental materials are not guaranteed with Rental or Used book purchases.
ISBN: 9780199547296 | 0199547297
Cover: Hardcover
Copyright: 11/28/2010
Common sense would suggest that we are in complete control of the actions we perform. Yet, there are countless examples of this control breaking down, for example, in the case of phobias and compulsive actions. We can all recall those times when, in the 'heat of the moment', our actions have been very different to those that would have resulted from calm and considered reflection. So why does this happen - why do apparently rational and intelligent beings make,what appear to be, such fundamental errors in their thinking. This book explores the idea that humans have two distinct minds within their brains: one intuitive and the other reflective. The intuitive mind is old, evolved early, and shares many of its features with animalcognition. The reflective mind, by contrast, is recently evolved and distinctively human: it enables us to think in abstract and hypothetical ways about the world around us and to calculate the future consequences of our actions. On occasions, our two minds can come into in conflict, and when this happens, the old mind often wins. These conflicts are often rationalised so that we, conscious persons, are unaware that the intuitive mind is in control. Written by a leading cognitivescientist, this book demonstrates how much of our behaviour is controlled by automatic and intuitive mental processes, which shape, as well as compete, with our conscious thinking and decision making.