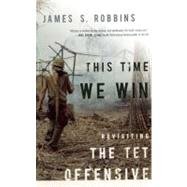 Note: Supplemental materials are not guaranteed with Rental or Used book purchases.
ISBN: 9781594036385 | 1594036381
Cover: Paperback
Copyright: 10/9/2012
Most of what Americans have heard about the Tet Offensive is wrong. The brief battles in early 1968 during the Vietnam conflict marked the dividing line between gradual progress toward possible victory and slow descent to a humiliating defeat. That the enemy was handily defeated on the ground was considered immaterial; that it could mount attacks at all was deemed a military triumph for the Communists. This persistent view of Tet is a defeatist story line that continues to inspire America's foreign enemies and its domestic critics of the use of force abroad. In This Time We Win, James S. Robbins at last provides an antidote to the flawed Tet mythology still shaping the perceptions of American military conflicts against unconventional enemies and haunting our troops in combat. In his re-examination of the Tet Offensive, Robbins analyzes the Tet battles and their impact through the themes of terrorism, war crimes, intelligence failure, troop surges, leadership breakdown, and media bias. The result is an explosion of the conventional wisdom about this infamous surge, one that offers real lessons for today's unconventional wars. Without a clear understanding of these lessons, we will find ourselves refighting the Tet Offensive again and again.