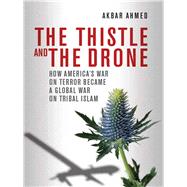 Note: Supplemental materials are not guaranteed with Rental or Used book purchases.
ISBN: 9780815723783 | 0815723784
Cover: Hardcover
Copyright: 3/7/2013
The United States declared war on terrorism in the wake of the 9/11 attacks.More than ten years later, the results are decidedly mixed. In The Thistle andthe Drone, world-renowned author, diplomat, and scholar Akbar Ahmedreveals a tremendously important yet largely unrecognized adverse effect of thesecampaigns: they actually have exacerbated the already-broken relationship betweencentral governments and the tribal societies on their periphery. Ideas of a clash of civilizations, "security," and "terrorism" have dominated the lastdecade, upsetting the balance between central governments and their periphery inmuch of the world. Ahmed draws on sixty current case studies for this unprecedented analysis, beginningwith Waziristan in Pakistan and expanding to similar societies in Central Asia, theMiddle East, North Africa, and elsewhere to offer an alternative paradigm. The UnitedStates is directly or indirectly involved with many of these societies. Al Qaeda hasbeen decimated, but the world is drifting into a global war where the focus has shiftedto these peripheral societies. Old ethnic and tribal tensions have been revived. No oneis immune to the violence _neither school children nor congregations in their housesof worship. People on the periphery say, "Every day is 9/11 for us." The thistle of the title evokes Hadji Murad, Tolstoy's classic novel about the strugglebetween the Imperial Russian army and the independent Muslim states in theCaucasus. The local tribesman with his courage, pride, and sense of egalitarianismis the prickly thistle; the drone reference, as the most advanced kill technology ofglobalization, is painfully clear. Together these two powerful metaphors paint a bleaklandscape of confusion, uncertainty, violence, and loss. The book provides concreteways to minimize conflict and win this global war.