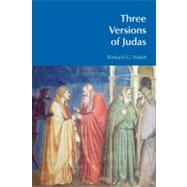 Note: Supplemental materials are not guaranteed with Rental or Used book purchases.
ISBN: 9781845537012 | 1845537017
Cover: Hardcover
Copyright: 8/14/2014
The gospel character of Judas clearly indicates Christian myth making. As the insider become outsider he demarcates Christian boundaries and, therefore, helps define insider identity and locate evil. Three Versions of Judas explores the mythic work transpiring in the Judases of the gospels and of subsequent scholarly and artistic interpretation from the perspective of Jorge Luis Borges' Three Versions of Judas. In that short story, Borges creates a modern Gnostic, Nils Runeberg, who doubts the canonical story of Judas and, therefore, creates seriatim three alternative versions: (1) a Judas who is the necessary, human complement to Christs redemptive work, (2) a Judas who denies himself the spirit for Gods greater glory, and, finally, (3) a Judas who is himself the incarnation. Three Versions of Judas finds three similar Judases in the gospels (and in subsequent interpretation). The gospels, too, offer a Judas who is necessary to the divine plan or to Christian myth, a Judas who is the determined outsider, and a Judas who is demonic. Or, in more Borgesian terms, the gospels offer a Judas who is victim of an infinite book (Judas #1), who is Jesus necessary rival and Christian scapegoat (Judas #2), and who is the precursor of the alienated modern individual (Judas #3). While tracing some of these Judases additional appearances in scholarship, literature, art, and cinema, Three Versions of Judas focuses on the mythic work evident in these Judases. This concentration leads to ethical reflections nicely summarized by the last lines in Borges' Three Versions of Judas: he [Runeberg] added to the concept of the Son, which seemed exhausted, the complexities of calamity and evil. Three Versions of Judas, that is, considers the evil necessarily inherent in Christian story-telling about Judas, or, more broadly, in self-identification at the expense of the other. Borges' stories provide a fortuitous vantage point for this project because his fiction is fantastic. Instead of constructing and supporting reality, as myth does, fantasy provokes metaphysical hesitation. Borges' fiction does so by abutting other well-known stories, like the gospel, and by multiple metalepses (transgressions of narrative levels). Consequently, it becomes difficult to construct reality confidently and all metaphysics and religions become merely branches of fantasy, stories told alongside an ineffable reality. Here, myth becomes ficciones and Judas becomes Judases.