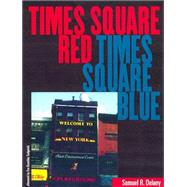 Note: Supplemental materials are not guaranteed with Rental or Used book purchases.
ISBN: 9780814719206 | 0814719201
Cover: Paperback
Copyright: 11/1/2001
Measured but emotional, illuminating but challenging.-- The San Francisco ChronicleA profoundly humane and intelligent book.-- Thom Bunn in The Los Angeles TimesIn a provocative and persuasively argued cri de coeur against New York City's gentrification and the redevelopment of Times Square in the name of 'family values and safety,' acclaimed science fiction writer Delany proves himself a dazzlingly eloquent and original social commentator.... This bracing and well-calibrated blend of journalism, personal history and cultural criticism will challenge readers of every persuasion.-- Publishers Weekly [starred review]Both a celebration of the kaleidoscopic possibilities inherent in urban diversity and a eulogy for the plurality of human contact and stimulation squelched by the Times Square makeover.-- Village VoiceThe book presents an interesting assessment of the reality behind the Disney takeover of Times Square.-- Philadelphia Gay News[An] incredible polemic in defense of queer public sex...well worth our time-- el boletinIf one street in America can claim to be the most infamous, it is surely 42nd Street. Between Seventh and Eighth Avenues, 42nd Street was once known for its peep shows, street corner hustlers and movie houses. Over the last two decades the notion of safety-from safe sex and safe neighborhoods, to safe cities and safe relationships-has overcome 42nd Street, giving rise to a Disney store, a children's theater, and large, neon-lit cafes. 42nd Street has, in effect, become a family tourist attraction for visitors from Berlin, Tokyo, Westchester, and New Jersey's suburbs.Samuel R. Delany sees a disappearance not only of the old Times Square, but of the complex social relationships that developed there: the points of contact between people of different classes and races in a public space. In Times Square Red, Times Square Blue, Delany tackles the question of why public restrooms, peepshows, and tree-filled parks are necessary to a city's physical and psychological landscape. He argues that starting in 1985, New York City criminalized peep shows and sex movie houses to clear the way for the rebuilding of Times Square. Delany's critique reveals how Times Square is being renovated behind the scrim of public safety while the stage is occupied by gentrification.Times Square Red, Times Square Blue paints a portrait of a society dismantling the institutions that promote communication between classes, and disguising its fears of cross-class contact as family values. Unless we overcome our fears and claim our community of contact, it is a picture that will be replayed in cities across America.