Tombstone The Great Chinese Famine, 1958-1962
, by
Jisheng, Yang
;
Friedman, Edward
;
MacFarquhar, Roderick
;
Mosher, Stacy
;
Guo, Jian
;
Friedman, Edward
;
Mosher, Stacy
;
Guo, Jian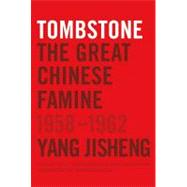 Note: Supplemental materials are not guaranteed with Rental or Used book purchases.
ISBN: 9780374277932 | 0374277931
Cover: Hardcover
Copyright: 10/30/2012
An estimated thirty-six million Chinese men, women and children starved to death during China's Great Leap Forward in the late '50's and early '60's. One of the greatest tragedies of the twentieth century, the famine is poorly understood, and in China is still euphemistically referred to as the "three years of natural disaster." As a journalist with privileged access to official and unofficial sources, Yang Jisheng spent twenty years piecing together the events that led to mass nationwide starvation, including the death of his own father. Finding no natural causes, Yang lays the deaths at the feet of China's totalitarian system and the refusal of officials at every level to value human life over ideology and self-interest. Tombstoneis a testament to inhumanity and occasional heroism that pits collective memory against the historical amnesia imposed by those in power. Stunning in scale and arresting in its detailed account of the staggering human cost of this tragedy, Tombstoneis written both as a memorial to the lives lostan enduring tombstone in memory of the deadand in hopeful anticipation of the final demise of the totalitarian system. Ian Johnson, writing in The New York Review of Books, called the Chinese edition of Tombstone"groundbreaking...The most authoritative account of the great famine...One of the most important books to come out of China in recent years."