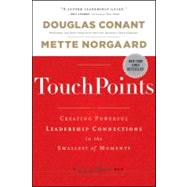 Note: Supplemental materials are not guaranteed with Rental or Used book purchases.
ISBN: 9781118004357 | 1118004353
Cover: Hardcover
Copyright: 5/17/2011
Many leaders perceive interruptions in their days as annoying and troublesome. However, the authors see interruptions and other incidental points of contact as opportunities to promote the organization's values, purpose, and agenda. They go further to suggest that the most powerful and long-lasting effects of skilled leadership take place in such informal moments-not in the formal, scripted, and often elaborately staged presentations where leaders attempt to energize and inspire their employees, shareholders, and customers. Doug Conant is known from moving The Campbell Soup Company from "poor to great" by valuing the moment-by-moment contact he had with the people who were capable of restoring greatness to the company. The intersection of the leader, the other(s), and the issue is the TouchPoint.The authors maintain that the four essential components of TouchPoint preparation are (1) the head, (2) the heart, (3) the hands, and (4) touch. One of the most valuable uses of a leader's time is the constant preparation of the leader's cognitive circuitry, emotional maturity, orientation for action, and sensitivity to the wants and needs of others. Reading, researching, reflection, and practice all combine to prepare leaders to make the most of TouchPoints, no matter how spontaneous and incidental they might be.Instead, leadership can be seen as a sequence of hundreds, even thousands of moments in time-each one packed with potential to help individuals learn, apply, and align their sense of purpose, personal values, and agendas with the corporate sense of purpose, values, and strategic agenda of the organizations they serve. The authenticity of an individual leader and that leader's purpose, values, and agenda are tested, re-tested, and confirmed or compromised during every informal or incidental interaction that takes place between leaders and those they lead.TouchPoints speaks to the theory and craft of leadership, promoting a balanced presence of rational, authentic, active, and wise leadership practices. Leadership mastery in the smallest and otherwise ordinary moments can transform aimless lethargy in individuals and entropy in organizations into focused energy-one magical moment at a time.