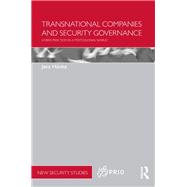 Note: Supplemental materials are not guaranteed with Rental or Used book purchases.
ISBN: 9780415622066 | 0415622069
Cover: Hardcover
Copyright: 5/9/2013
This book examines non-state governance in areas of limited statehood by looking at the security practices of multinational companies (MNCs) in Sub-Saharan Africa. It starts with the observation of the heterogeneous nature of the security practices involved in securing business spaces linked to MNCs. For instance, techniques of control and coercion by companies' security agents, bribery of politicians for the provision of security and participatory engagement with adjacent communities are part of company agents' repertoire of action across business spaces in different African host countries today. Surprisingly, these practices are strikingly similar at a given time across different countries. Different time periods are, however, characterised by different practices. Two dominant theories about business and governance in Africa - those focusing on state institutions and those emphasising global norm diffusion prove to be unable to explain this pattern. To solve this puzzle, the book analyses the techniques, nodes of actors and spaces of transnational companies' security governance in African mining regions. Mining areas are analysed during two periods during which state capacity was limited - namely during 1890 to the 1920s and 1995-2008 - and in two locations that differ in the degree of the state's limitedness the mining regions to the northwest of Johannesburg in South Africa and in Southern Katanga in the Democratic Republic of the Congo (DRC). The book offers an alternative explanation for the findings of similarities and differences in the security practices in these locations and time periods: it argues that different collective meaning systems that work across state boundaries structure local actors' perceptions and range of choices of security techniques. They facilitate and sustain the observed heterogeneous security practices. The book identifies three transnationalised meaning systems that shape contemporary security practices in industrial mining areas. The first is the discourse of Corporate Social Responsibility (CSR), which is represented in research on norm diffusion. The second is the routines and knowledge of the more traditionally-oriented field of security professionals. Third, the routine practices of a 'politics of the belly' - in themselves part of a transnationalised meaning system but with local roots in Africa - render certain practices more likely than others across cases. Meaning systems in the 19th/early 20thcenturies differ from those in the contemporary period and explain variation in security practices across time. In sum, analysing how MNCs secure business spaces, this book offers a cultural theory of the converging yet highly contradictory governance practices prevailing across transnationalised places in Africa, Latin America and Asia. This book will be of interest to students of security and governance, discourse analysis, business studies, African politics, and IR in general.