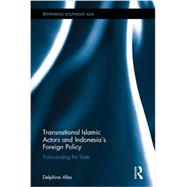 Note: Supplemental materials are not guaranteed with Rental or Used book purchases.
ISBN: 9780415560269 | 0415560268
Cover: Hardcover
Copyright: 12/14/2015
This book examines the growing role of transnational Islamic Non-State Actors (NSAs) in post-authoritarian Indonesia and how it has affected the making and the conduct of Indonesia#xE2;#xAC;"s foreign policy since the country embarked on democratization process in 1998. After the end of the New Order government (1967-1998), the erosion of the primacy of the state as the dominant actor of foreign policy became evident. In particular the proliferation of NSAs began to limit the state's authority in the realm of foreign policy. This is especially the case with the resurgence of Islamic NSAs, which demonstrates the return of Islam into Indonesian politics and which has significant implications for Indonesia#xE2;#xAC;"s image, state#xE2;#xAC;"s identity and foreign policy. Islamic NSAs have begun to assert a degree of autonomy vis-#xC3;#xA0;-vis the Indonesian state and increasingly demonstrate the ability to project power and influence across border by pursuing a multitude of transnational agendas which either reinforces, competes with or even contradicts the government's foreign policy interests and objectives. While the degree of freedom these actors enjoy poses a formidable challenge to the state in maintaining control over the making and conduct of official foreign policy, this book argues that the degree of pluralism among the Indonesian Islamic NSAs - reflected in the multitude of diverging and competing agendas and outlooks among themselves - provides a limit within which they could really articulate their interests across borders. The state has sought to exploit that limit in an attempt to manage the impacts of NSAs#xE2;#xAC;" transnational activities on key national interests in order to preserve Indonesia#xE2;#xAC;"s international image as a moderate Muslim country and its identity as a non-theocratic state. This book considers for the first time the consequences of the #xE2;#xAC;Sparallel diplomacy#xE2;#xAC; undertaken by Indonesia#xE2;#xAC;"s Islamic NSAs on the country#xE2;#xAC;"s official foreign policy interests, explains the state#xE2;#xAC;"s responses, and investigates the outcomes of those responses on the country#xE2;#xAC;"s international identity.