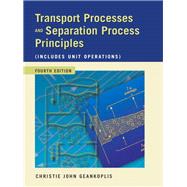 Note: Supplemental materials are not guaranteed with Rental or Used book purchases.
ISBN: 9780131013674 | 013101367X
Cover: Hardcover
Copyright: 3/5/2003
The comprehensive, unified, up-to-date guide to transport and separation processes Today, chemical engineering professionals need a thorough understanding of momentum, heat, and mass transfer processes, as well as separation processes. "Transport Processes and Separation Process Principles, Fourth Edition" offers a unified and up-to-date treatment of all these topics. Thoroughly updated to reflect the field's latest methods and applications, it covers both fundamental principles and practical applications. Part 1 covers the essential principles underlying transport processes: momentum transfer; steady-state and unsteady-state heat transfer; and mass transfer, including both unsteady-state and convective mass transfer. Part 2 covers key separation processes, including evaporation, drying, humidification, absorption, distillation, adsorption, ion exchange, extraction, leaching, crystallization, dialysis, gas membrane separation, reverse osmosis, filtration, ultrafiltration, microfiltration, settling, centrifugal separation, and more. This edition's extensive updates and enhancements include: A more thorough coverage of momentum, heat, and mass transport processesDetailed new coverage of separation process applicationsGreatly expanded coverage of momentum transfer, including fluidized beds and non-Newtonian fluids More detailed discussions of mass transfer, absorption, distillation, liquid-liquid extraction, and crystallization Extensive new coverage of membrane separation processes and gas-membrane theory"Transport Processes and Separation Process Principles, Fourth Edition "also features more than 240 example problems andover 550 homework problems reflecting the field's current methods and applications.