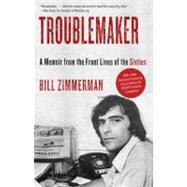 Note: Supplemental materials are not guaranteed with Rental or Used book purchases.
ISBN: 9780307739506 | 0307739503
Cover: Trade Paper
Copyright: 6/5/2012
The political memoir as rousing adventure story-a sizzling account of a life lived in the thick of every important struggle of the era. April 1973: snow falls thick and fast on the Badlands of South Dakota. It has been more than five weeks since protesting Sioux Indians seized their historic village of Wounded Knee, and the FBI shows no signs of abandoning its siege. When Bill Zimmerman is asked to coordinate an airlift of desperately needed food and medical supplies, he cannot refuse; flying through gunfire and a mechanical malfunction, he carries out a daring dawn raid and success­fully parachutes 1,500 pounds of food into the village. The drop breaks the FBI siege, and assures an Indian victory. This was not the first-or last-time Bill Zimmerman put his life at risk for the greater social good. In this extraordi­nary memoir, Zimmerman takes us into the hearts and minds of those making the social revolution of the sixties. He writes about registering black voters in deepest, most racist MississipΠ marching with Martin Luther King Jr. in Chicago; helping to organize the 1967 march on the Pentagon; fighting the police at the 1968 Democratic con­vention; mobilizing scientists against the Vietnam War and the military's misuse of their discoveries; smuggling medi­cines to the front lines in North Vietnam; spending time in Hanoi under U.S. bombardment; and founding an interna­tional charity, Medical Aid for Indochina, to deliver humanitarian assistance. Zimmerman-who crossed paths with political organizers and activists like Abbie Hoffman, Daniel Ellsberg, CÉsar ChÁvez, Jane Fonda, and Tom Hayden-captures a groundbreaking zeitgeist that irrevoca­bly changed the world as we knew it.