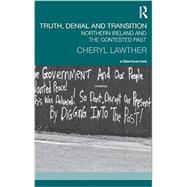 Note: Supplemental materials are not guaranteed with Rental or Used book purchases.
ISBN: 9780415510141 | 0415510147
Cover: Hardcover
Copyright: 4/29/2014
Truth, Denial and Transition addresses the ways in which the process of truth recovery in post-conflict societies is challenged and contested. Transitional justice scholarship and praxis has been a site of ever increasing activity in the past two decades and truth recovery is now considered an axiomatic element of the post conflict transition from political violence. Its purported benefits have been well rehearsed. Truth recovery is, however, one of the most formidable post-conflict challenges, particularly so in the face of efforts made by powerful actors who are keen to conceal their involvement (or silence) with regard to past abuses. In all transitional contexts, the dialectic between truth and denial is a key contest, yet little attention has been paid to those jurisdictions whose transitions from violent conflict have been marked by the rejection of a formal truth process. Questions as to why techniques of denial appear to persist and to what extent recovering truth about the past is essential for political and social reconciliation have, therefore, remain unanswered. This book draws on the case study of Northern Ireland to address these questions: exploring and critically analysing unionist, loyalist and military opposition to and distance from the truth recovery debate in Northern Ireland. Interrogating the resistance to truth in such contexts speaks to larger questions concerning identity formation and national imagination, notions of blamelessness and victimhood, traditions of sacrifice and the fear of 'betrayal', the othering of political opponents and the importance of timing in peacemaking. Linking these themes to a broad interdisciplinary literature, as well as specific literature on other jurisdictions, Truth, Denial and Transition makes a unique contribution to the international field of transitional justice and conflict transformation.