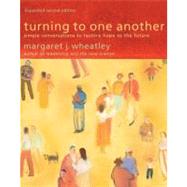 Note: Supplemental materials are not guaranteed with Rental or Used book purchases.
ISBN: 9781576757642 | 1576757641
Cover: Trade Paper
Copyright: 2/2/2009
Margaret Wheatley wrote those words in the spring of 2001 to begin the first edition of Turning to One Another. In many ways, at home and abroad, our divisions only have deepened since then. We have turned away from one another, believing it's more important to stand our ground rather than to open our hearts and minds to others. The increasingly fractured nature of our relationships makes this a perfect time for a new edition of this classic book.Turning to One Another is both a gentle plea and a clear guide to help us rediscover the power of simple human conversation. Not mediation, negotiation, problem solving, debate, or public meetings. Simple, truthful conversation where we each have a chance to speak, we each feel heard, and we each listen well. Part I explores the power of conversation and the conditions -- simplicity, personal courage, real listening, and diversity -- that support it. Part II contains words and images to encourage us to pause and reflect and to prepare for the work ahead: convening truly meaningful conversations. Part III provides "conversation starters" -- questions that lead people to share their deepest beliefs, fears, and hopes. "What is my faith in the future?" "When have I experienced good listening?" "What is my unique contribution to the whole?" After each question, Wheatley combines personal reflections, stories, quotations, and poems that help us reach out, break down barriers, and connect. In this edition, Wheatley has added two new conversation starters: "What is our role in creating change?" and "Can I be fearless?"For millennia, conversation has been the natural way humans have thought together. Drawing on wisdom from Rilke and Neruda, the Koran and the Tao Te Ching, the Shona people of Zimbabwe and the Aztecs of Mexico, as well as her own graceful and insightful essays and poetry, Margaret Wheatley inspires us to experience our collective creativity. As she reminds us, all great changes begin when "some friends and I started talking."