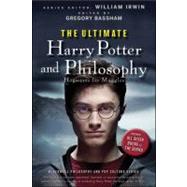 Note: Supplemental materials are not guaranteed with Rental or Used book purchases.
ISBN: 9780470398258 | 0470398256
Cover: Paperback
Copyright: 9/14/2010
A philosophical exploration of the entire seven-book Harry Potter series, this text takes fans back to Godric's Hollow to discuss life after death, to consider what moral reasoning drove Harry to choose death, and to debate whether Sirius Black is a man or a dog.
Is it always wrong to use a love potion?
Is death something to be feared . . . or "mastered"?
What can Severus Snape teach us about the possibility of redemption?
Is love the most powerful magic of all?
J. K. Rowling's wildly popular Harry Potter books may appear to be simple children's tales on the surface, but like Hogwarts, they conceal many hidden chambers, trapdoors, and perplexing secrets. Drawing on all seven books in the Harry Potter series, The Ultimate Harry Potter and Philosophy offers a powerful brew of insights about good and evil, love, death, power, sacrifice, and hope. Is it true, as Dumbledore says, that our choices reveal far more about us than our abilities do? Is there an afterlife, and what might it be like? Here's a Pensieve for your thoughts. So take a healthy slug of Baruffio's Brain Elixir and join Bassham's Army of talented philosophers in exploring the mind-stretching deeper questions of the Potter books and films.
This book has not been approved, licensed, or sponsored by any entity or person involved in creating or producing Harry Potter, the book series, or films.
"The Ultimate Harry Potter: Hogwarts for Muggles, is a fresh and distinctive report on the great ideas in the series. All the authors of these chapters have had the advantage of thinking through their chosen issues, and writing up their conclusions after the entire Potter storyline was complete, and Rowling had even had her say in public about things that never made it into the pages of the official texts. The philosophers and other top Harry Potter experts gathered together here offer new voices and new perspectives on many of the most important ideas that come up in the books--some of which can be genuinely life changing. Reading this book will be like putting on a Philosophical De-Coder Ring. It will show you vital aspects of the deepest story that lies behind these famous stories"