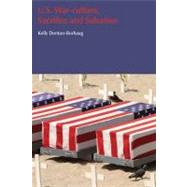 Note: Supplemental materials are not guaranteed with Rental or Used book purchases.
ISBN: 9781845537111 | 1845537114
Cover: Nonspecific Binding
Copyright: 8/8/2014
U.S. War-culture, Sacrifice and Salvation traces the enduring links between U.S. war-culture and the discourse and rituals of sacrifice. The military industrial complex in the U.S. has grown exponentially in recent decades, and now includes technological, academic, entertainment, scientific, cyber, intelligence, and security facets in addition to the traditional intertwining of the military with corporate and government institutions. Yet the reality of war-culture remains invisible to most Americans. Sacrificial rhetoric and practices energize and naturalize war-cultures base and operations; sacrifice permeates just war discourse and tradition; and popular Christian understandings of redemption in the U.S. also rely upon sacrificial formulations. The sacred canopy of war as a necessary sacrifice obfuscates the pernicious reality of U.S. war-culture, aided by abusive and manipulative formulations of Christian redemption conflated with militarism. If we agree that U.S. war-culture must be resisted, we also must question sacrificial language and assumptions that electrify and normalize war-culture in the post-9/11 period of the U.S. Is it possible to disentangle Christian understandings of sacrifice from the powerful images of sacrifice that are grounded in religion and simultaneously alive in politics, economics, the military and popular culture as supporting pillars of militarization and war? This book questions the ties between Christian notions of salvation and sacrifice, and political, economic, cultural and military sacrificial frameworks and practices, in order to promote deeper understanding of the meaning of our post-9/11 religious and political moment in the United States, and to encourage wiser and more life-giving ways forward as communities of faith and as a nation.