Use and Monitoring of E-mail, Intranet and Internet Facilities at Work : Law and Practice
, by
Blanpain, Roger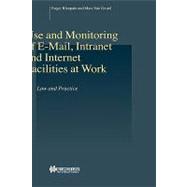 Note: Supplemental materials are not guaranteed with Rental or Used book purchases.
ISBN: 9789041122667 | 9041122664
Cover: Hardcover
Copyright: 3/31/2004
Two legitimate statements in search of legal doctrine: iquest;An employee must have a reasonable expectation of privacy.iquest; iquest;The efficient operation of the company must be safeguarded.iquest; As a lawyer considers each of these assertions, a significant region of incompatibility emerges. In the context of the use of information technology systems in the workplace, a collision of rights is exposed that has engendered a virtual battleground in the theory and practice of labour law. This remarkable and timely book draws together all the strands of law in this controversial area, both de facto and de jure. Its comprehensive coverage includes such eminently useful materials as the following: thirty actual company policies regarding on-line communications, from a wide variety of business sectors, with detailed analysis; texts of four company codes of practice; actual views of trade unions and employersiquest; organizations; analysis of relevant existing laws on access, monitoring, liability, sanctions, And The rights of employee representatives; two proposed model codes of practice, one For The individual user and one for employee representatives; and, appendices including Belgiumiquest;s National Collective Agreement No. 81 And The regulatory bill and advisory opinions that led up to it. The authorsiquest; focus on practice is advantageous, As it brings the central issues and conflicts into high relief. The close analysis and investigation of how employers, trade unions, and legislative and advisory bodies are dealing with the essential mattersiquest;which include communications facilities at work, employeriquest;s prerogative, The companyiquest;s rights of ownership and disposal, And The fundamental privacy rules of legitimate purpose, proportionality, and transparencyiquest;provide very valuable guidance to parties in any country concerned with developing a viable set of legal principles and rules for this challenging and unsettled area of labour law.