VMware ESX and ESXi in the Enterprise Planning Deployment of Virtualization Servers
, by
Haletky, Edward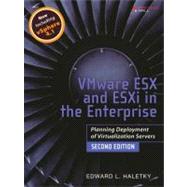 Note: Supplemental materials are not guaranteed with Rental or Used book purchases.
ISBN: 9780137058976 | 0137058977
Cover: Paperback
Copyright: 2/8/2011
Edward L. Haletky's Complete, Solutions-Focused Guide to Running ESX Server 3.5, vSphere, and VMware 4.x
Extensively updated and revised, this is the definitive real-world guide to planning, deploying, and managing VMware ESX Server 3.5, VMware vSphere Hypervisor (ESXi), or VMware vSphere 4.x cloud computing in mission-critical environments.
Drawing on his extensive experience consulting on enterprise VMware implementations, renowned expert Edward L.
Haletky offers a "soup-to-nuts" collection of field-tested best practices and solutions. He illuminates the real benefits, issues, tradeoffs, and pitfalls associated with VMware's newest platforms, using real-world examples that draw upon both VMware and third-party products.
This edition features detailed coverage of new vSphere features such as Storage IO Control, Network IO Control, Load-Based Teaming, Distributed Virtual Switches, ESXi, hardware and processors, and a significantly expanded discussion of auditing and monitoring. Haletky offers new or enhanced coverage of VM Hardware, virtual networking, VMsafe, and more.
All new coverage is thoroughly integrated into Haletky's insightful discussion of the entire lifecycle: planning, installation, templates, monitoring, tuning, clustering, security, disaster recovery, and more. Haletky consistently presents the most efficient procedures, whether they use graphical tools or the command line.
You'll learn how to:
- Assess VMware datacenter and infrastructure hardware requirements
- Understand technical, licensing, and management differences between ESX/ESXi 3.5 and 4.x
- Plan installation for your environment and identify potential "gotchas"
- Select, configure, utilize, and support storage cost-effectively
- Manage key operational issues associated with virtual infrastructure
- Adapt existing network and security infrastructure to virtualization
- Configure ESX from host connections
- Configure ESX Server from Virtual Centers or hosts
- Create, modify, and manage VMs (with detailed Windows, Linux, and NetWare examples)
- Troubleshoot VM issues with eDirectory, private labs, firewalls, and clusters
- Utilize vSphere 4.1's improved Dynamic Resource Load Balancing (DRLB)
- Implement disaster recovery, business continuity, and backup
- Plan for vApps and the future of virtualization