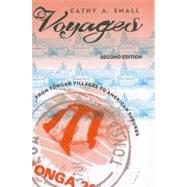 Note: Supplemental materials are not guaranteed with Rental or Used book purchases.
ISBN: 9780801477393 | 0801477395
Cover: Paperback
Copyright: 11/1/2011
Most Americans are unaware that the United States is a major terminus for the people of Tonga, an island nation in the South Pacific. Small examines Tongan migration to the United States in a transnational perspective, stressing that many of the new migrant populations seem to successfully manage dual lives, in both the old country and the new. To that end, she describes life in contemporary Tongan communities and in U.S. settings.-Library Journal "The central idea of Voyages-that Tonga and all Tongans exist at this moment in time in a transnational space-comes through vividly and powerfully, and the durability of this image is testimony to the success of Small's experiment in ethnographic writing."-The Contemporary Pacific "Voyages is a valuable contribution to the literature on immigration and on Asian Americans. Its clear, informal prose style also makes it an ideal book for undergraduate or graduate classes in anthropology, sociology, cultural geography, or Asian American studies."-International Migration Review "To write a book that is both educational and entertaining is to be at once scholarly, thoughtful, and witty-a major achievement. Cathy Small understands what migration has meant, and still means in everyday lives, as she empathizes with the plight of islanders uncertain over their landfall and destiny, and she captures their own stories beautifully. Voyages is one of the most passionate and compassionate books on the South Pacific in recent years."-Pacific "Small weaves her stories and analysis with a clarity and compelling attentiveness to logic that do not sacrifice intricacy and nuance."-Journal of Asian American Studies In Voyages, Cathy A. Small offers a view of the changes in migration, globalization, and ethnographic fieldwork over three decades. The second edition adds fresh descriptions and narratives in three new chapters based on two more visits to Tonga and California in 2010. The author (whose role after thirty years of fieldwork is both ethnographer and family member) reintroduces the reader to four sisters in the same family-two who migrated to the United States and two who remained in Tonga-and reveals what has unfolded in their lives in the fifteen years since the first edition was written. The second edition concludes with new reflections on how immigration and globalization have affected family, economy, tradition, political life, identity, and the practice of anthropology.