The Walking Dead and Philosophy Zombie Apocalypse Now
, by
Yuen, Wayne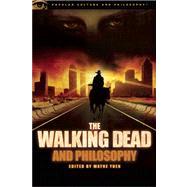 Note: Supplemental materials are not guaranteed with Rental or Used book purchases.
ISBN: 9780812697674 | 0812697677
Cover: Paperback
Copyright: 6/12/2012
Rick, Lori, Shane, Carl, Dale, Andrea, and Michonne--human survivors of a zombie apocalypse--don't know much about philosophy, but pyhilosophical ideas continue to shamble on through their world, and there's no excape from them. The Walking Dead is both a hugely successful comics series and a popular TV show. This epic story of a zombie apocalypse is unique. It focuses on the long-term individual, social, and moral consequences of survival by small groups of humans in a world overrun by infected zombies. Guns, chainsaws, and machetes are not enough for survival: humans also need agreement on rules of conduct. Can equality or fairness have any polace in the post-apocalyptic world? Do theft or even assault and murder become okay under desperate circumstances? Who should be recognized as having political authority? What about eating human flesh? Should survivors have children? As zombies have low IQs, terrible manners, and the overpowering urge to eat people, do they have any rights at all? Am I still me if I become a zombie? Do zombies know anything? are they rational? Would it be ethical to train a zombie and keep it as a pet? What the heck are P-zombies? And why would we all jump at the chance to win a "stagger on" role in a zombie TV series? All these issues and more are tackled by an assorted bunch of philosophers, thrown together by dire circumstances, and struggling to make some sense of the world collapsing around them.