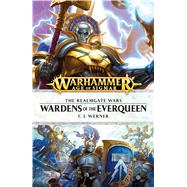 Note: Supplemental materials are not guaranteed with Rental or Used book purchases.
ISBN: 9781784964948 | 1784964948
Cover: Paperback
Copyright: 2/21/2017
Torglug the Despised and the forces of Nurgle seek to destroy the Everqueen. But with their new Stormcast allies, the beleagured sylvaneth at last have a hope of victory...

Athelwyrd, the last great bastion of Ghyran's sylvaneth, has fallen to the pestilent servants of the Plague God. At their head, the warlord Torglug the Despised will do anything to seize the ultimate prize his master so fervently desires: Alarielle, the Everqueen. Her defenders will not see her taken easily though – Lord-Castellant Grymn and his chamber of Hallowed Knights have sworn themselves to her protection. As a great exodus of sylvaneth and Stormcast Eternals sets out from the ruin of Athelwyrd with Torglug's Chaos host hard on their heels, the strength and conviction of Alarielle's defenders will be tested as never before.