Watching the World Change The Stories Behind the Images of 9/11
, by
Friend, David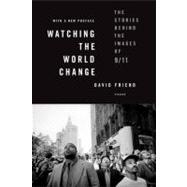 Note: Supplemental materials are not guaranteed with Rental or Used book purchases.
ISBN: 9780312591489 | 0312591489
Cover: Paperback
Copyright: 8/2/2011
Watching the World Changeis a gripping visual chronicle of America's darkest week, in which the stories behind the most striking images of the towers' fall and its aftermath reveal the nature of our image-saturated society. The terrorist attack on the World Trade Center was the most universally observed event in human history--with several billion people seeing the two towers burn and fall on television and the Internet and then in newspapers and magazines. That the event was so visual is owing to the people who, facing disaster, were compelled to take photographs of it: imperiled office workers carrying point-and-shoot cameras; horrified tourists; professional photographers risking their lives; traumatized family members; government officials charged with recording the devastation and identifying the dead. Conceived by Osama Bin Laden as a diabolical visual event--the toppling of an image of America right before the world's eyes--the destruction of the Twin Towers swiftly came to be defined by photography, as families posted snapshots of their loved ones, police sought terrorists' faces on security-camera videotapes, and the Bush administration devised images of presidential heroism to counter the chaotic initial moments after the attack. InWatching the World Change, David Friend tells the stories behind forty of the photographs that altered our sense of our world forever--from the happenstance shots taken by bystanders in the moments after the first tower was struck to the scene of three firefighters raising the Stars and Stripes at the site that evening, which has become a ubiquitous image of American resilience. He tells unforgettable stories of photographers and rescuers, victims and survivors. He shows how breakneck advances in television, digital photography, and the Internet produced an effect whereby the whole world was watching the terrible events at the same time. He explores the controversy about whether images of 9/11 are redemptive or exploitative; and he shows how photographs, and the human images at the center of them, help us to witness, to grieve, and finally to understand the unimaginable.