Wave Theory For Alternative Investments: Riding The Wave with Hedge Funds, Commodities, and Venture Capital
, by
Walker, Stephen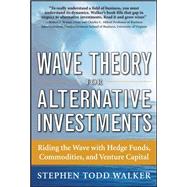 Note: Supplemental materials are not guaranteed with Rental or Used book purchases.
ISBN: 9780071742863 | 0071742867
Cover: Hardcover
Copyright: 12/30/2010
A Strategy That Helps You Weather Any Economic Storm"Wave Theory for Alternative Investments is not just a guide; it is the holy grail for understanding alternative investments."-- Matt Emmens, Chairman, President, CEO of Vertex and Chairman of the Board of Shire"Walker's book provides investors and managers with an intriguing walk through the history of venture capital as an alternative asset class, while demonstrating the important contribution VCs have made and continue to make to innovation, economic growth, and job creation."-- Bryan Pearce, Americas Director, Ernst & Young Venture Capital Advisory Group"If you want to learn about alternative investments, there is one book which must be on the very top of your reading list,Wave Theory for Alternative Investments. The author delves behind mere analytics and algorithms with a behaviorably based, verifiable tool."-- Stephen M. Goodman, Senior Partner and Cofounder of the Emerging Growth Practice, Morgan Lewis & Bockius LLP"If you want to understand the history of venture capital in the context of its current manifestation, there is only one book:Wave Theory for Alternative Investments."-- Bo Peabody, Managing General Partner, Village Ventures"Venture capital helps fuel the growth of America's finest companies, the leaders of tomorrow.Wave Theory for Alternative Investmentsis a must-read for [entrepreneurs and] those who wish to invest in the technologies of the future through the venturecapital process."-- Mark Heesen, President, National Venture Capital Association"Whether you are diversifying with private equity, commodities, hedge funds, or any other alternative asset class, it is important to be aware of the waves.Wave Theory for Alternative Investmentsis enlightening and highly readable. Few finance books cover the alternativesspace this thoroughly, let alone quote Shakespeare."--David M. Darst, CFA, Chief Investment Strategist, Morgan Stanley Smith BarneyThe 2008 crash taught quite a few intelligent, high-net-worth, and institutional investors the hard lesson thatequities and bonds can carry a fair degree of risk. Many of these investors mistakenly cashed out of their plummeting investments at precisely the wrong time--and completely missed the recent wave of recovery.Wave Theory for Alternative Investmentshelps avoid poor decision making and costly mistakes. Consistently ranked among the nation's top wealth managers, Stephen Todd Walker explains how to catch the waves of potentially lucrative yet volatile alternative markets--and ride them to unprecedented profits.Wave Theory for Alternative Investmentsis an insider's guidebook to some of the fastest-growing segments of the investment world, including hedge funds, commodities, and venture capital.Wave Theory for Alternative Investmentsis your first lesson in usingalternatives to keep surfing--and avoid wiping out in the next financial meltdown. This excellent resource includes: A brief history of alternative investments Numerous risk/return profiles Critical tools, including fundamental and technical analysisWalker shares his extensive knowledge, top-tier experience, and proven strategies to help you maximize return-on-investment on a consistent basis.The complex process of alternative investing can take years of practice to master.Wave Theory for Alternative Investmentshelps you adjust your approach right now, so that you'll be in prime position to catch the best waves in the next financial storm.