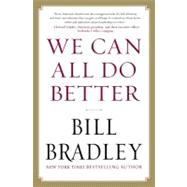 Note: Supplemental materials are not guaranteed with Rental or Used book purchases.
ISBN: 9781593157296 | 1593157290
Cover: Paperback
Copyright: 5/8/2012
From one of the foremost political and cultural thought leaders of our time, New York Timesbestselling author Senator Bill Bradley comes We Can All Do Better, a game-changing and thought-provoking book about how we can break our present cycle of despair, frustration, and cynicism permeating country, and how American voters now have a unique opportunity to partake in a more participatory form of democracy. In We Can All Do Better, Sen. Bradley accomplishes three very powerful messages: Clarifies where we are, explains how we got here, and points the way forward. We Can All Do Betteris a cogent, clear, humane and factual journey that reminds us of the greatness of America, Americans, and the American system, while assessing with a clear eye the ways we have gotten off track. By providing many historical examples of prior challenges to the democracy that were eventually surmounted by a citizenry unafraid to make changes where change was needed, the book inspires positive action. It reminds us that our common vision of America has always been more powerful than what divides us, and that every generation has, eventually, expanded the franchise, improved the system, and every now and then, saved the world. And it's time for Americans to do so again. We Can All Do Betteris significant, with a lasting legacy; a book we will point to in the future for its contribution to understanding, for the conversation it catalyzed, and for the forward progress it inspired. We Can All Do Betteraddresses the fundamental political and societal issue of our time: the pervasive feeling that our current political system is not serving us as it should. This is a topic that is at once incredibly timely, endlessly rehashed, and yet poorly understood. Its historical roots, its structural forces, changes and challenges are seldom assessed; pundits, reactionaries, and many citizens instead simply decry the sorry state of affairs and point fingers. We Can All Do Betterarrives at a moment when both of the major parties appear entrenched in positions that do not address the country's acknowledged, persistent, and looming problems of unemployment, debt, immigration, education, war, and security, and the current presidential election cycle appears destined to descend into platitudes, pledges, and litmus tests.