Weak Constitutionalism: Democratic Legitimacy and the Question of Constituent Power
, by
Col=n-Rfos
;
Joel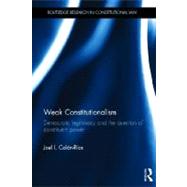 Note: Supplemental materials are not guaranteed with Rental or Used book purchases.
ISBN: 9780415671903 | 0415671906
Cover: Hardcover
Copyright: 5/16/2012
This book looks at the relationship between democracy and constitutions. It has been frequently argued that democracy is protected and realized under traditional liberal constitutional forms through constitutional rights such as free speech, freedom of association, and the right to vote. However, some democrats still find something profoundly unsettling about contemporary constitutional regimes. Questions are raised such as how can constitutions claim to enjoy democratic legitimacy, how can they be considered the creation of the people, their work-in-progress, if they can only be changed and interpreted by those occupying positions of power? The participation of ordinary citizens in constitutional change - as well as their opportunities for participation- in the world's most "advanced" democracies such as the United States, Canada, and the United Kingdom is weak at best as the power of constitutional reform usually lies in the exclusive hands of legislative supermajorities. The book examines the conditions under which a constitutional regime can be considered legitimate from a democratic perspective. The book argues that only a regime that provides an outlet for constituent power to manifest from time to time can ever come to enjoy democratic legitimacy. In so doing, it advances a democratic constitutional theory, one that combines a strong or participatory conception of democracy with a weak form of constitutionalism. Under this view, a democratically legitimate constitutional regime must remain permanently open to re-constitution through highly participatory procedures. The book engages with Anglo-American constitutional theory as well as examining the theory and practice of constitutionalism and constituent power in different constitutional regimes including Latin American countries where the theory of constituent power has become an important part of the legal and political discourse of the left. In this book Joel Col#xF3;n-R#xED;os shows how the democratic legitimacy of constitutional regimes transcends the question of who should have the last word about the constitutionality of ordinary laws, and requires us to inquire into the relationship between ordinary citizens and their constitution.