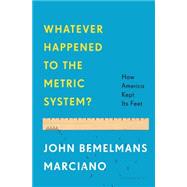 Note: Supplemental materials are not guaranteed with Rental or Used book purchases.
ISBN: 9781608194759 | 1608194752
Cover: Hardcover
Copyright: 8/5/2014
The American standard system of measure is an odd thing to behold with its esoteric, seemingly inconsistent figures: 12 inches in a foot, three feet in a yard, 16 ounces in a pound. For something as elemental as counting and estimating the world around us, it certainly seems like a difficult tool to use. So how did we end up with it? America's system of measures is unique; the rest of the world is on the metric system. And for a while there it looked like we would make the switch. Yet it never happened, and the reasons why not get to the root not just of who we think we are, but how we divide up the world around us. The odd little fact that we almost went metric but never quite did is a surprisingly long and compelling story, complete with great inventors, bumbling politicians, and captains of industry.This book is more than a witty just-so story; it's an inquisitive, intellectual book about why we invented these systems, and how they are woven into the ways we think. Read this book and you'll never read the Frost line "miles to go before I sleep," or eat a foot-long sub, without wondering once again: Whatever happened to the metric system?