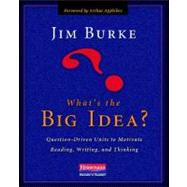 Note: Supplemental materials are not guaranteed with Rental or Used book purchases.
ISBN: 9780325021577 | 0325021570
Cover: Paperback
Copyright: 2/2/2010
''Many people have written about how theory (or research) relates to practice; Jim is one of those rare professionals who live the relationship.'' - Arthur Applebee , NAEP advisor, Validation Committee member for Common Core, Author of Curriculum as Conversation
His book is rich with insights from other scholars and teachers, woven together in a convincing web of argument and insight. But the book is just as rich in classroom experience, using the wisdom of the expert practitioner to focus his arguments on the lives of his students-in all their richness and complexity.
Why a book about questions? "Because when students' instruction is organized around meaningful, clear questions," writes Jim Burke in What's the Big Idea? "they understand better, remember longer, and engage much more deeply and for greater periods of time."
Jim shows how making essential questions the center of your teaching can ease the tension between good teaching and teaching to the test while giving students dependable, transferable tools for reading, writing, thinking, and participating in the real world. Going in depth on his own units for frequently taught books, Jim shows how to plan lessons, units, and even entire courses around big ideas to help students:
- grapple with content and deepen comprehension through reading, writing, and discussion
- make learning stick by connecting it to texts, to students' experiences, and to the world
- clarify and extend their thinking by learning which questions to ask and when
- improve school and test performance by honing academic language and skills.
"Although no one thing can ever be the solution to all problems," Jim writes, "this book demonstrates the ways in which questions can address your concerns and develop in our students the mental acuity and fluency necessary to succeed in school and at work, as well as to achieve a sense of purpose in their personal lives." The only question now is, Are you ready to change your students? learning and lives?