When Ethnicity Did Not Matter in the Balkans : A Study of Identity in Pre-Nationalist Croatia, Dalmatia, and Slavonia in the Medieval and Early-Modern Periods
, by
Fine, John V. A., Jr.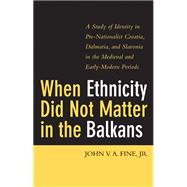 Note: Supplemental materials are not guaranteed with Rental or Used book purchases.
ISBN: 9780472114146 | 047211414X
Cover: Hardcover
Copyright: 3/2/2006
"This is history as it should be written. InWhen Ethnicity Did Not Matter in the Balkans, a logical advancement on his earlier studies, Fine has successfully tackled a fascinating historical question, one having broad political implications for our own times. Fine's approach is to demonstrate how ideas of identity and self-identity were invented and evolved in medieval and early-modern times. At the same time, this book can be read as a critique of twentieth-century historiography-and this makes Fine's contribution even more valuable. This book is an original, much-needed contribution to the field of Balkan studies." -Steve Rapp, Associate Professor of Caucasian, Byzantine, and Eurasian History, and Director, Program in World History and Cultures Department of History, Georgia State University Atlanta When Ethnicity Did Not Matter in the Balkansis a study of the people who lived in what is now Croatia during the Middle Ages (roughly 600-1500) and the early-modern period (1500-1800), and how they identified themselves and were identified by others. John V. A. Fine, Jr., advances the discussion of identity by asking such questions as: Did most, some, or any of the population of that territory see itself as Croatian? If some did not, to what other communities did they consider themselves to belong? Were the labels attached to a given person or population fixed or could they change? And were some people members of several different communities at a given moment? And if there were competing identities, which identities held sway in which particular regions? InWhen Ethnicity Did Not Matter in the Balkans, Fine investigates the identity labels (and their meaning) employed by and about the medieval and early-modern population of the lands that make up present-day Croatia. Religion, local residence, and narrow family or broader clan all played important parts in past and present identities. Fine, however, concentrates chiefly on broader secular names that reflect attachment to a city, region, tribe or clan, a labeled people, or state. The result is a magisterial analysis showing us the complexity of pre-national identity in Croatia, Dalmatia, and Slavonia. There can be no question that the medieval and early-modern periods were pre-national times, but Fine has taken a further step by demonstrating that the medieval and early-modern eras in this region were also pre-ethnic so far as local identities are concerned. The back-projection of twentieth-century forms of identity into the pre-modern past by patriotic and nationalist historians has been brought to light. Though this back-projection is not always misleading, it can be; Fine is fully cognizant of the danger and has risen to the occasion to combat it while frequently remarking in the text that his findings for the Balkans have parallels elsewhere. John V. A. Fine, Jr.is Professor of History at the University of Michigan.