Why Don't Students Like School? : A Cognitive Scientist Answers Questions about How the Mind Works and What It Means for the Classroom
, by
Willingham, Daniel T.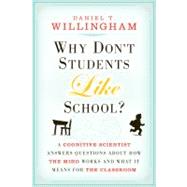 Note: Supplemental materials are not guaranteed with Rental or Used book purchases.
ISBN: 9780470591963 | 047059196X
Cover: Paperback
Copyright: 3/15/2010
Kids are naturally curious, but when it comes to school it seems like their minds are turned off. Why is it that they can remember the smallest details from their favorite television program, yet miss the most obvious questions on their history test?
Cognitive scientist Dan Willingham has focused his acclaimed research on the biological and cognitive basis of learning and has a deep understanding of the daily challenges faced by classroom teachers. This book will help teachers improve their practice by explaining how they and their students think and learn—revealing the importance of story, emotion, memory, context, and routine in building knowledge and creating lasting learning experiences.
In this breakthrough book, Willingham has distilled his knowledge of cognitive science into a set of nine principles that are easy to understand and have clear applications for the classroom. Some of examples of his surprising findings are:
"Learning styles" don't exist: The processes by which different children think and learn are more similar than different.
Intelligence is malleable: Intelligence contributes to school performance and children do differ, but intelligence can be increased through sustained hard work.
You cannot develop "thinking skills" in the absence of facts: We encourage students to think critically, not just memorize facts. However thinking skills depend on factual knowledge for their operation.
Why Don't Students Like School is a basic primer for every teacher who wants to know how their brains and their students' brains work and how that knowledge can help them hone their teaching skills.
Praise for Why Don't Students Like School:
"Just like his Ask the Cognitive Scientist column, Dan Willingham's book makes fascinating but complicated research from cognitive science accessible to teachers. It is jam packed with ideas that teachers will find both intellectually rich and useful in their classroom work." -Randi Weingarten, president, American Federation of Teachers
"This readable, practical book by a distinguished cognitive scientist explains the universal roots of effective teaching and learning. With great wit and authority it practices the principles it preaches. It is the best teachers' guide I know of—a classic that belongs in the book bag of every teacher from preschool to grad school."-E. D. Hirsch, Jr., university professor emeritus, University of Virginia
"Dan Willingham, rare among cognitive scientists for also being a wonderful writer, has produced a book about learning in school that reads like a trip through a wild and thrilling new country. For teachers and parents, even students, there are surprises on every page. Did you know, for instance, that our brains are not really made for thinking?"-Jay Mathews, education columnist, The Washington Post
"Educators will love this wonderful book—in clear and compelling language, Willingham shows how the most important discoveries from the cognitive revolution can be used to improve teaching and inspire students in the classroom."-John Gabrieli, Grover Hermann Professor of Health Sciences, Technology and Cognitive Neuroscience, Massachusetts Institute of Technology
"Scientists know so much more than we knew thirty years ago about how children learn. This book offers you the research, and the arguments that will help you become a more effective teacher."-Joe Riener, English teacher, Wilson High School, Washington, D.C.