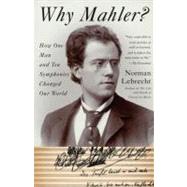 Note: Supplemental materials are not guaranteed with Rental or Used book purchases.
ISBN: 9781400096572 | 140009657X
Cover: Trade Paper
Copyright: 11/1/2011
Although Gustav Mahler was a famous conductor in Vienna and New York, the music that he wrote was condemned during his lifetime and for many years after his death in 1911. #x1C;Pages of dreary emptiness,#x1D; sniffed a leading American conductor. Yet today, almost one hundred years later, Mahler has displaced Beethoven as a box-office draw and exerts a unique influence on both popular music and film scores. Mahler#x19;s coming-of-age began with such 1960s phenomena as Leonard Bernstein#x19;s boxed set of his symphonies and Luchino Visconti#x19;s film Death in Venice,which used Mahler#x19;s music in its sound track. But that was just the first in a series of waves that established Mahler not just as a great composer but also as an oracle with a personal message for every listener. There are now almost two thousand recordings of his music, which has become an irresistible launchpad for young maestros such as Gustavo Dudamel. Why Mahler? Why does his music affect us in the way it does? Norman Lebrecht, one of the world#x19;s most widely read cultural commentators, has been wrestling obsessively with Mahler for half his life. Pacing out his every footstep from birthplace to grave, scrutinizing his manuscripts, talking to those who knew him, Lebrecht constructs a compelling new portrait of Mahler as a man who lived determinedly outside his own times. Mahler was-along with Picasso, Einstein, Freud, Kafka, and Joyce-a maker of our modern world. #x1C;Mahler dealt with issues I could recognize,#x1D; writes Lebrecht, #x1C;with racism, workplace chaos, social conflict, relationship breakdown, alienation, depression, and the limitations of medical knowledge.#x1D; Why Mahler?is a book that shows how music can change our lives. From the Hardcover edition.