Winning Body Language Control the Conversation, Command Attention, and Convey the Right Message without Saying a Word
, by
Bowden, Mark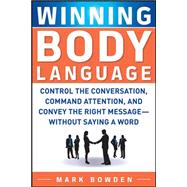 Note: Supplemental materials are not guaranteed with Rental or Used book purchases.
ISBN: 9780071700573 | 0071700579
Cover: Paperback
Copyright: 4/7/2010
--Sales Handle
An elite trainer of Fortune 50 CEO's and G8 world leaders teaches readers a surprising and powerful system for nonverbal communication to help them become more influential in the business world.
--About the Book
Over half of all decisions other people make about us are based not on what we say but how we say it, particularly our body language. People will make powerful, unconscious decisions on whether they trust us, agree with us, or are willing to follow us based on our body language. Non-verbal communication can be a powerful influence on even the most important business decisions. Whether delivering a pitch, managing a team, or negotiating a deal; using effective body language is the key to great communication and success at work.
In Winning Body Language, Mark Bowden gives readers the secrets of the world's greatest communicators, those who know the importance of sending out clear and highly effective messages and how to use body language strategically. His unique Truth Plane system of non-verbal communication is practiced by top business executives and politicians across the globe. Readers will learn and master the universal techniques of body language, including such counter-intuitive tips as:
*How manipulating the six square feet of area in front of your body known as the truth plane can make people think you can do no wrong!
*How to tap into audiences? primal brain structures so they identify with you
*Why looking someone in the eye while speaking with them can be deadly
*How imitating Hilary Clinton's hand motions can inspire confidence
Winning Body Language includes a full vocabulary of gesture delivery, a comprehensive and practical understanding of the signals that bind us all together, and unique tips and techniques to help us stand out and get noticed at work.
--Features
-Hot topic: 'Body Language' is searched for online well in excess of half a million times a year. Business communication, such as public speaking and networking, is the number one fear in the workplace today, and Business Body Language address this pain point head-on.
-Successful genre: Books on body language, such as The Definitive Book of Body Language (96,000 copies sold) and The Power of Body Language (35,000 copies sold) sell extremely well.
-Strong speaking platform: Mark Bowden gives keynote speeches and training around the globe to Fortune 50 companies on how to stand out, win trust and profit in business. As a body language expert and media commentator on political, business and everyday body language, Mark Bowden is already viewed by millions on TV and the internet across North America, the USA and worldwide.
Great online presence: Mark Bowden's website (www.truthplane.com) and TV appearances now on YouTube currently receive over 45,000 US visitors a year, with many additional hits from another 36 territories including North and South America, UK and Europe, Africa, Asia and Australia.
--Market / Audience
The millions of business professionals, leaders, entrepreneurs, and sales people at any level of an organization, who wish to raise their communication abilities to the next level to grow their business, profile and profit.
--Benefit to the Customer
Learn the techniques employed by one of the world's most skilled communicators Readers will be able to give effective, dynamic presentations to their staff, colleagues, management, and clients.