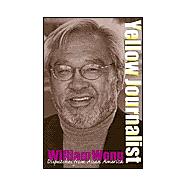 Note: Supplemental materials are not guaranteed with Rental or Used book purchases.
ISBN: 9781566398305 | 1566398304
Cover: Paperback
Copyright: 2/15/2001
Who are Asian Americans? Are they the remnants of the "yellow peril" portrayed in the media through stories on Asian street gangs, unscrupulous political fundraisers, and crafty nuclear spies? Or are they the "model minority" that the media present as consistently outranking European Americans in math scores and violin performances?In this funny, sobering, and always enlightening collection, journalist William Wong comments on these and other anomalies of the Asian American experience. From its opening tribute to the Oakland Chinatown of Wong's childhood to its closing tribute to Tiger Woods, Yellow Journalist portrays the many-sided legacies of exclusion and discrimination. The stories, columns, essays, and commentaries in this collection tackle such persistent problems as media racism, criminality, inter-ethnic tensions, and political marginalization. As a group, they make a strong case for the centrality of the Asian American historical experiences in U.S. race relations.The essays cover many subjects, from the personal to policy, from the serious to the silly. You will learn a little Asian American history and a lot about the nuances and complexities of the contemporary Asian American experience. If there is an overriding theme of these stories and essays, it is the multi-faceted adaptation of ethnic Asians to the common American culture, the intriguing roles that they play in our society, and the quality of their achievements to contribute to a better society.Bill Wong's high school journalism teacher took him aside during his senior year and told him he would have to be "twice as good" to succeed at his chosen profession. Succeed he did, and "twice as good" he is. As Darrell Hamamoto remarks in his Foreword, "'Chinaman,' Chinese American, Asian American; any way you slice it, Bill Wong is one straight-up righteous Yellow Man." Author note: Writer and journalist William Wong has been regional commentator for The News Hour with Jim Lehrer and a columnist for the San Francisco Examiner, Oakland Tribune, and Asian Week, among other publications.