You Are Not So Smart Why You Have Too Many Friends on Facebook, Why Your Memory Is Mostly Fiction, and 46 Other Ways You're Deluding Yourself
, by
Mcraney, David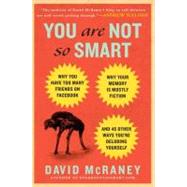 Note: Supplemental materials are not guaranteed with Rental or Used book purchases.
ISBN: 9781592406593 | 1592406599
Cover: Hardcover
Copyright: 10/27/2011
An entertaining illumination of the stupid beliefs that make us feel wise, based on the popular blog, youarenotsosmart.com. You believe you are a rational, logical being who sees the world as it really is, but journalist David McRaney is here to tell you that you're as deluded as the rest of us. But that's OK-delusions keep us sane. You Are Not So Smartis a celebration of self-delusion. It's like a psychology class, with all the boring parts taken out, and with no homework. Collecting more than sixty of the lies we tell ourselves every day, McRaney has produced a fascinating synthesis of cutting-edge psychology research to turn our minds inside out. You Are Not So Smartcovers a wide range of topics drawn from all aspects of life, such as coffee (it doesn't stimulate you; it's just a cure for caffeine withdrawal), placebo buttons (those fake thermostats and crosswalk knobs that give us the illusion of control), hindsight bias (when we learn something new, we reassure ourselves that we knew it all along), confirmation bias (our brains resist new ideas, instead paying attention only to findings that reinforce our preconceived notions), and brand loyalty (we reach for the same brand not because we trust its quality but because we want to reassure ourselves that we made a smart choice the last time we bought it). Packed with interesting sidebars and quick guides on cognition and common fallacies, You Are Not So Smartis infused with humor and wit.