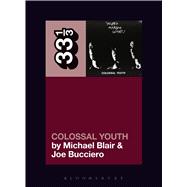 Note: Supplemental materials are not guaranteed with Rental or Used book purchases.
ISBN: 9781501321146 | 1501321145
Cover: Paperback
Copyright: 5/4/2017
Welsh post-punk band Young Marble Giants released one LP and then, like their vanishing portraits on the album's cover, disappeared. Even though the album, Colossal Youth, received positive reviews and sold surprisingly well, Young Marble Giants quickly slid into the margins of rock & roll history-relegated to "cult" status among post-punk and indie rock fans. Their lasting appeal, however overlooked, owes itself to the band's singular approach to punk rock. Instead of using overt political ideologies, abrasive sounds, and antiestablishment appearances to rebel against the social and musical status quo, Young Marble Giants used restraint, ambiguity, and silence. In rejecting punk's loudness and opening it up to a host of new sounds and approaches, Young Marble Giants redefined the genre's sense of rebellion.
Here, Michael Blair and Joe Bucciero expand upon this observation. Yes, Colossal Youth is a quiet album with simple lyrics, stark production, and few compositional flourishes. Yes, recording such an album in the "punk" era might have been a radical statement. But where did these radical ideas come from? By tracing Colossal Youth's logistical, geographical, ideological, and 20th-century art historical origins, Blair and Bucciero aim to re-situate Colossal Youth's legacy. It's established as a brilliant record, a cult favorite, and a continuing influence on musicians today. More importantly, however, it's a hinge on which punk rock as a whole turns.