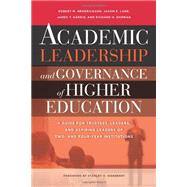 Note: Supplemental materials are not guaranteed with Rental or Used book purchases.
ISBN: 9781579224813 | 1579224814
Cover: Hardcover
Copyright: 11/30/2012
To meet the new and rapidly changing demands facing today's higher education managers and leaders from department chairs to trustees this book offers guidance on how to effectively discharge their responsibilities and how to develop their skills for managing their relationships with internal and external stakeholders. It also provides a broad understanding of the structure and functions of their institution and of the appropriate loci of decision-making. The authors go beyond the positions of leadership to emphasize the qualities of creativity, commitment, collaboration, delegation and courage that are essential to steer a unit, college or university through successful and enduring change Recognizing that the hallmark of higher education in the United States is a diversity of institutional types, this book enables the reader to relate issues of environment, organization and management to his or her specific institution, from not only the presidential perspective, but from the vantage point of trustees, provosts, vice presidents, deans, and department heads. By covering all these functions-as well as the role of external stakeholders-in a single volume, this book offers readers a comprehensive view of how institutions respond to external forces and internal issues, and how these impact organizational structure, functions and decision-making in their roles, and the institution at large. The book is informed by these three essential principles: Sound institutional decisions must be based on a clearly articulated mission and set of core values; Successful institutional adaptation to a changed environment must be grounded and aligned with the fundamental mission and core values; and Successful academic leaders must be able to create and foster partnerships, bringing diverse individuals and interests together around a shared vision and mission grounded in common values. This handbook is divided into five units. The first introduces the reader to the scholarly field of higher education and establishes the contextual framework for the rest of the book. The second investigates the multifaceted and often complex relationships that exist between institutions of higher learning and the external constituencies. The third focuses how college and university presidents and their board of trustees keep an institutional mission focused while adapting to changes in the environment, while the fourth analyzes how colleges and universities fulfill their core mission through shared democratic partnerships. The concluding unit concerns how effective academic leaders implement their institution's academic mission. Both scholarly and accessible, this book is intended to be of interest to a broad audience, ranging from graduate students in higher education administration programs to members of institutional governing boards, and everyone in leadership positions in between. All of the authors have completed graduate work in a higher education administration program, and collectively have had experience with academic administration at every level through to the university presidency. Two of the authors are currently faculty in leading higher programs teaching classes in administration and organizational theory and have published widely in the scholarly field. One has been a member of a governing board.