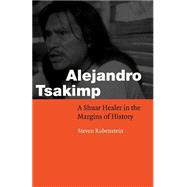 Note: Supplemental materials are not guaranteed with Rental or Used book purchases.
ISBN: 9780803289888 | 080328988X
Cover: Paperback
Copyright: 10/1/2002
In the heavily forested foothills of the Andes Mountains in Ecuador, a Shuar healer named Alejandro Tsakimp leads many lives. He is a peasant who sells cattle and lumber, a troubled member of the Shuar Federation, a son and brother, husband and father, student and worker, and a shaman. Being a Shuar today-and especially a healer-is both a burden and a resource, and Tsakimp must constantly negotiate varying relations of power, such as with the better educated and richer officials of the Shuar Federation, his patients, siblings, and rival shamans. The power to cure is also the power to kill, so shamans like Tsakimp are frequently in danger from accusations of witchcraft.In his own words, Alejandro Tsakimp tells of his lives and relationships, the practice of shamanism, and the many challenges and triumphs he has encountered since childhood. Born during a time when the Shuars were recovering from a devastating intertribal conflict over the trading of shrunken heads, Tsakimp was first exposed to healing practices when he was cured in the womb by a shaman. Later he actively pursued this knowledge in the hopes of curing his father-another shaman-who was ill from witchcraft. His father's death in 1990 created conflict among his heirs, who were the first generation of Shuars to inherit property. Tsakimp's family fiercely competed for the property and eventually accused each other of witchcraft and parricide.Anthropologist Steven Rubenstein, who began working with Tsakimp in 1989, provides essential background information and has skillfully edited Tsakimp's story. This book is notable for its revealing look at the relationship between anthropologist and shaman, for its insightful glimpse into the complicated lives of South American healers today, and for its compelling collection of stories told by Tsakimp.Steven L. Rubenstein is an associate professor of anthropology at Ohio University. He is the author of The Huaorani.