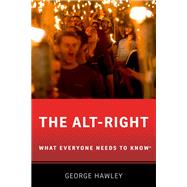 Note: Supplemental materials are not guaranteed with Rental or Used book purchases.
ISBN: 9780190905194 | 0190905190
Cover: Hardcover
Copyright: 12/5/2018
In recent years, the so-called Alt-Right, a white nationalist movement, has grown at an alarming rate. Taking advantage of high levels of racial polarization, the Alt-Right seeks to normalize explicit white identity politics. Growing from a marginalized and disorganized group of Internet trolls and propagandists, the Alt-Right became one of the major news stories of the 2016 presidential election, and exploded into public consciousness after its march through Charlottesville in summer 2017. Discussions of the Alt-Right are now a regular part of political discourse in the United States and beyond. In The Alt-Right: What Everyone Needs to Know®, George Hawley, one of the world's leading experts on the conservative movement and right-wing radicalism, provides a clear explanation of the ideas, tactics, history, and prominent figures of one of the most disturbing movements in America today. Although it presents itself as a new phenomenon, the Alt-Right is just the latest iteration of
a longstanding radical right-wing political tradition. Throughout, Hawley discusses the other primary ideological influences on the Alt-Right: libertarianism, paleoconservatism, neo-reaction, and the Men's Rights Movement. The Alt-Right represents a genuine challenge to pluralistic liberal democracy, but its size and influence are often exaggerated. Whether intentionally or not, President Donald Trump energized the Alt-Right in 2016, yet conflating Trump's variety of right-wing politics with the Alt-Right causes many observers to both overestimate the Alt-Right's size and downplay its radicalism. Hawley provides a tour of the contemporary radical right, and explains how it differs from more mainstream varieties of conservatism. Dispassionate and accessible, this is an essential overview for anyone seeking to understand to this disruptive and dangerous political movement.