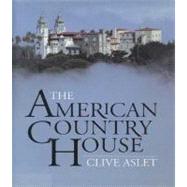 Note: Supplemental materials are not guaranteed with Rental or Used book purchases.
ISBN: 9780300105056 | 0300105053
Cover: Trade Paper
Copyright: 5/11/2005
From the Vanderbilts' stupendous Biltmore and the Rockefellers' Kykuit to the Duponts' museum Winterthur and William Randolph Hearst's legendary San Simeon, American country houses evoke the grandeur of a bygone world of wealth and privilege. This magnificent book describes the great country houses built with American industrial fortunes from the end of the Civil War until 1940. Written by Clive Aslet, author of a widely acclaimed study of English country houses of this period,The American Country Housedraws on the rich and often amusing writings of contemporaries to evoke the lives the buildings served as well as the architectural shapes that they took. According to Aslet, the American country house was in part an attempt to import aristocratic ways from Europe, but it became far more than this, and took specifically American forms to serve specific American needs. More opulent than their European prototypes and technologically more advanced, American country houses exhibited a surprising variety of style and purpose. Aslet notes that many of these houses were inspired by a desire to escape the congested and disease-ridden cities. But life in the country was a daunting prospect for many owners, who therefore chose to establish themselves within striking distance of others of their kindalong the Hudson Valley, on the Philadelphia Main Line, in the Berkshires or the Adirondacks, on Long Island, in Lake Forest, or in the balmy climate of California or Florida. Describing the houses that were built in these areas, Aslet also portrays the rural pursuits followed by the owners: farming (of a gentlemanly kind), hunting on horseback, tennis, golf, sailing, flying, and motor racing. This richly textured and wealthy lifestyle produced architecture of great distinction and provides Aslet with a canvas on which to draw an entertaining and original portrait of the creativity and the conspicuous consumption of American upper classes in their golden age.