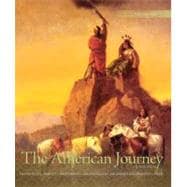 Note: Supplemental materials are not guaranteed with Rental or Used book purchases.
ISBN: 9780205742448 | 0205742440
Cover: Paperback
Copyright: 1/1/2011
This highly visual survey of American history introduces students to the key features of American political, social, and economic history in an exciting format designed to ignite students passion to know history. Worlds Apart; Transplantation, 1600-1685; The Creation of New Worlds; Convergence and Conflict, 1660s-1763; Imperial Breakdown, 1763-1774; The War for Independence, 1774-1783; The First Republic, 1776-1789; A New Republic and the Rise of the Parties, 1789-1800; The Triumph and Collapse of Jeffersonian Republicanism, 1800-1824; The Jacksonian Era, 1824-1845; Slavery and the Old South, 1800-1860; The Market Revolution and Social Reform, 1815-1850; The Politics of Sectionalism, 1846-1861; Battle Cries and Freedom Songs: The Civil War, 1861-1865; Reconstruction, 1865-1877; A New South: Economic Progress and Social Tradition, 1877-1900; Industry, Immigrants, and Cities, 1870-1900; Transforming the West, 1865-1890; Politics and Government, 1877-1900; The Progressive Era, 1900-1917; Creating an Empire, 1865-1917; America and the Great War, 1914-1920; Toward a Modern America: The 1920s; The Great Depression and the New Deal, 1929-1939; World War II, 1939-1945; The Cold War at Home and Abroad, 1946-1952; The Confident Years, 1953-1964; Shaken to the Roots, 1965-1980; The Reagan Revolution and a Changing World, 1981-1992; Complacency, Crisis, and Global Reengagement,19932007. Any professional or individual seeking to better understand U.S. History.